As part of Research Stream A (The design of RIH), Project 1 is an online Delphi prioritization exercise to validate an RIH screening and evaluation tool.
The objective of this research project is to validate a tool for assessing the degree of responsibility of health innovations that has been in development since 2016. This tool has attributes that are evaluated using a Likert scale.
International experts were recruited to participate in this Delphi exercise that will take place in two rounds, on a secure web platform. The tool will be enriched and consolidated in each round, guided by the received comments.
Since the Delphi method aims to obtain the most reliable consensus of a group of experts on complex problems, the expert selection criteria include knowledge of the experts on the observed problems, their legitimacy in relation to the group of actors they represent and their interest and readiness to participate in the study. We are targeting up to 25 participants for each of the following categories: 1) academic experts who have published in peer-reviewed scientific journals in the field of Responsible Research & Innovation (RRI); 2) engineers who are active in the field of health; 3) ethics experts; And 4) experts in health technology assessment. Only one exclusion criterion will apply to all: work or have worked in the last 5 years for a medical device manufacturer or a pharmaceutical company or act or have acted within the last 5 years as a paid consultant for the Life sciences industry.
Experts will be invited to review and evaluate, through a series of closed-ended questions, the level of importance of the current attributes of the RIH screening and assessment tool. Open-text reply fields will allow them to share comments and propose other attributes that they consider relevant to judge the level of responsibility of innovations. For the second round, the experts will receive the results of the previous round and will again have to decide on the level of importance of the attributes. The participation of each expert will be anonymous since the composition of the groups will not be revealed to the participants. Confidentiality will be assured since we will only share aggregated results. Correspondence, data analysis and feedback will be provided by the Project Lead and will be conducted in English.
Project Lead: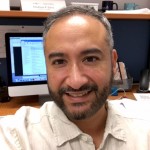 Hudson Silva