As part of Research Stream A (The Design of RIH), Project 2 aims to better understand how innovation developers perceive RIH processes and products.
Up to 40 participants involved in the development of health innovations will be recruited in Quebec and Ontario for semi-structured interviews. Two inclusion criteria apply: 1) to have been closely involved in the development of a health innovation; And 2) work in Montreal, Sherbrooke, Toronto or Waterloo because these cities allow for meaningful comparisons between the two provinces. Our diversification criteria include disciplinary training (clinical sciences, industrial design, biomedical engineering, business, etc.), gender and areas of expertise (child health, chronic disease, aging).
The interviews, lasting from 60 to 90 minutes will be led by a research professional from our team. Before the interview, respondents will be invited to explore a dozen innovations that will be on a web directory that is currently being finalized. These innovations will be organized by area of ​​care: child health, chronic disease and aging. During the interview, participants will be asked to clarify their perception of the RIH processes and products by referring to the examples in the web directory.
Project Lead: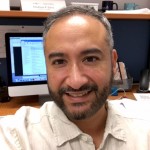 Hudson Silva